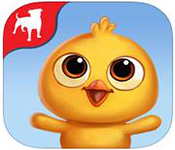 FarmVille 2: Country Escape
A new mobile-optimized FarmVille experience is now available! It's FarmVille tailored for you and the way you want to play. Best of all, it's free! Farm at your own pace, whether you have 30 seconds or 30 minutes. Play with friends or on your own in our new Anonymous Mode: Facebook not required. You can also play when not connected to the internet. Join a Farm Co-Op to trade and share, and go on Farm Adventures to collect rare goods. Now, you can finally play FarmVille anytime... anywhere.
Comments: Requires iOS 5.1 or later. Compatible with iPhone 4, iPhone 4S, iPhone 5, iPhone 5c, iPhone 5s, iPad 2 Wi-Fi, iPad Wi-Fi (3rd generation), iPad Wi-Fi (4th generation), iPad mini Wi-Fi, iPad Air, iPad mini with Retina display, iPod touch (4th generation), and iPod touch (5th generation). This app is optimized for iPhone 5.
Genre: Puzzle
SubGenre: Sim
ESRB: Everyone

Current Download Rank: #1000

FarmVille 2: Country Escape Screenshots