In Dark Parables The Red Riding Hood Sisters, it's been centuries since the very first Red Riding Hood defeated the Wolf Queen and established the Order of the Red Riding Hood Sisters. But, the Wolf Queen has begun to stir once again, and she has kidnapped all the Red Riding Hood Sisters except for one. Now you and the last of the Red Riding Hood Sisters must journey into the Mist Kingdom to save the Sisters and defeat the Wolf Queen once more, before she unleashes her bloodthirsty wolves upon the world.
I am a sucker for a good fantasy game, especially when you throw in a truly amazing female lead. Wrap all that up with a Grimm Fairytale feel, and I'm a goner. So, when I clicked on Dark Parables: The Red Riding Hood Sisters and read the synopsis, I knew I had to give it a try.
Dark Parables had me from before "hello," and I was hooked from the very beginning. This may be the first time I've even given this advice, but: Don't skip the opening scene. It's epic.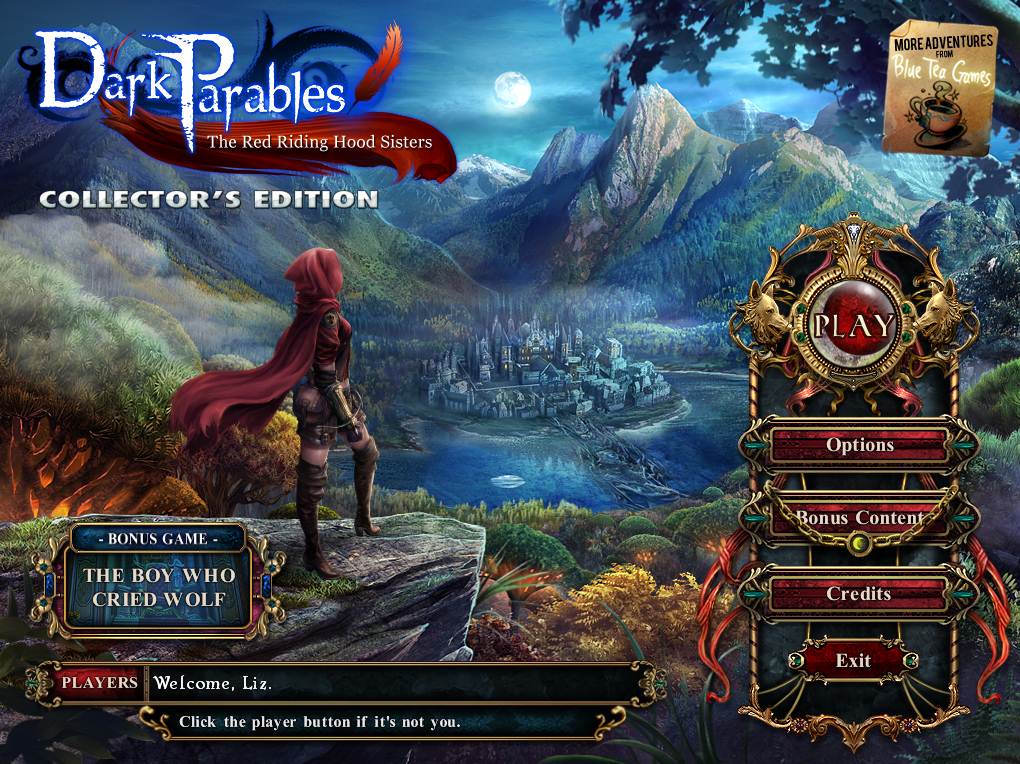 The main plot of the story is that you're a detective who's been sent to investigate strange goings-on in an area the Red Riding Hood Sisters have been protecting for centuries. You run into Ruth, who turns out to be the only Red Riding Hood Sister who hasn't been captured by the Wolf Queen. The two of you have to work together to save the Red Riding Hood Sisters and the world. You excited about this game yet? You should be.
One of my favorite parts of Dark Parables: The Red Riding Hood Sisters is the really lovely character design. Although, I'm not really sure why kickass female fighters always have to be in short-shorts, thigh-high boots, and corsets; I guess they're part of the uniform. Still, minor rant aside, I did love the characters. They were each very unique from each other, and the Wolf Queen was downright amazing.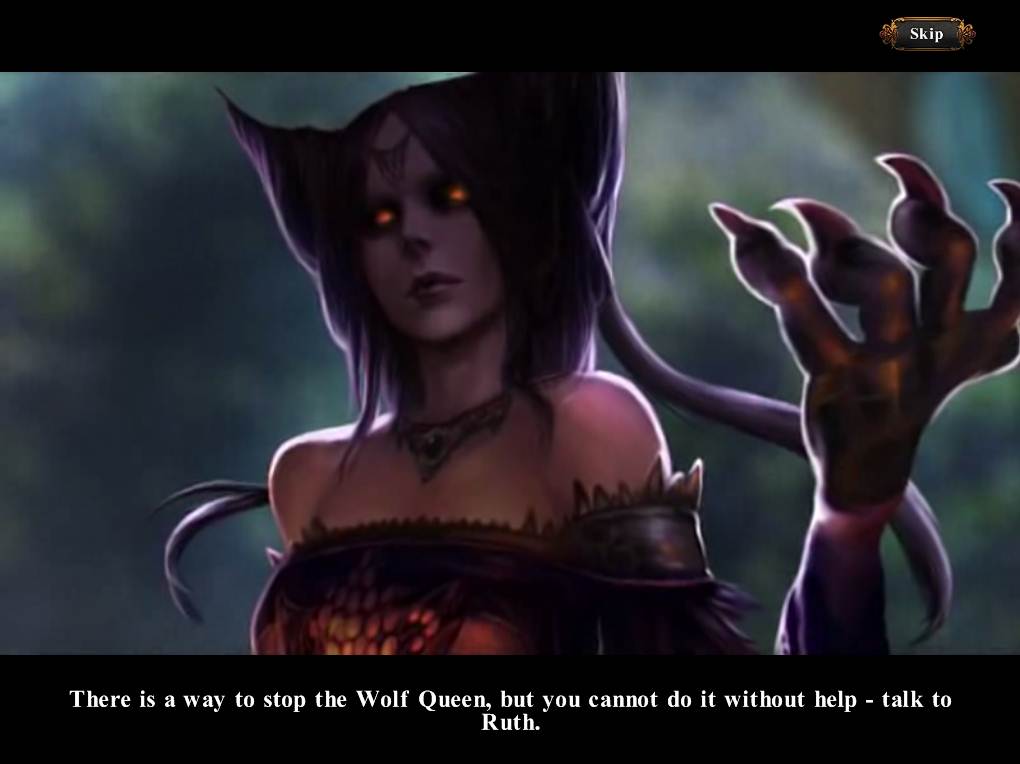 There were a lot of little things that helped add a depth that I honestly wasn't expecting in a fantasy game. For example, throughout game play you're collecting pieces to parables. When you have all the pieces to the parable, you can click on parables button and read each one like a book. It sets up a nice backstory for the world, and I always got excited when I found one.
I was also pleasantly surprised by the mini-games. They were all pretty unique, and some of them were really interestingly layered. For example, in the game below you had to first unlock each set of directional arrows though different mini-mini-games, and then you could use those directional arrows to adjust the wolves into the line of a Red Riding Hood Sister. It gave the game a nice level of complexity, and once I got the hang of it, I really enjoyed those extra layers.
Another nice touch was the mini-map, which was super helpful. It shows you where you are and the areas around you, and if you have a task in a particular area, that will also be displayed.
So if I'm supposed to go meet up with a Red Riding Hood Sister three areas away, all I have to do is glance at the mini-map to see where she is. It's great for navigating, and really helped me with my direction-impairedness.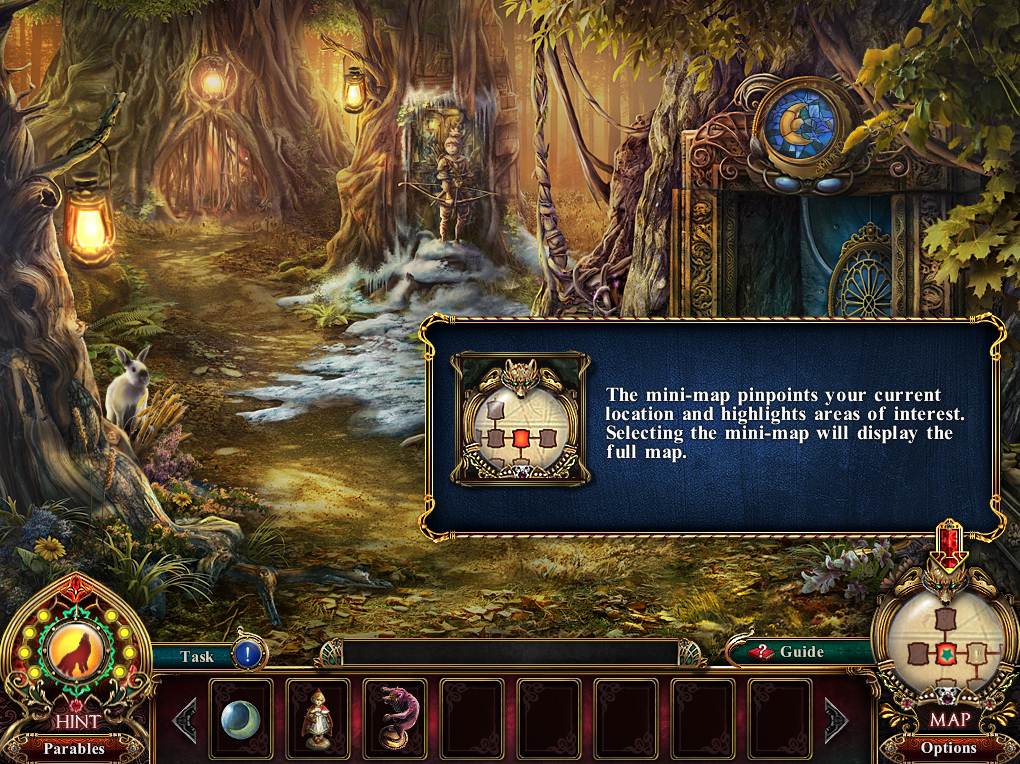 I thought the use of sound was also really interesting, especially how there's not really any ongoing background music. Instead, there are outdoorsy sounds like bugs and frogs and other woodsy things.
That kind of made the music even more special when it played, which was generally during hidden object scenes and puzzles and such. I really loved the music; it was exactly what I'd expect of a Grimm Fairytale: haunting, but in a romantic kind of way. The voice acting was also really fantastic, and that's a huge deal to me. If the voice actors are corny, I have a lot harder time getting into the story line.
There were a few sounds, though, that I could have done without. For instance, when you're moving around there's the sound of high heels clicking. While it's an interesting effect, it's kind of strange to hear in a forest, where high heels would just sink into the dirt and moss (experience speaking here). But eh, I guess that's just details.
Slightly more disturbing: right after you make contact with the first Red Riding Hood Sister, she gets injured, and you have to find a special herb to help stop the poison. The problem is, she makes injured person sounds. Which is fine, except for how it's kind of a strange sound to be hearing if you're not the one playing the game. Say, for example, your husband happens to be walking by your computer desk while she's making these...sounds. Yeah, awkward.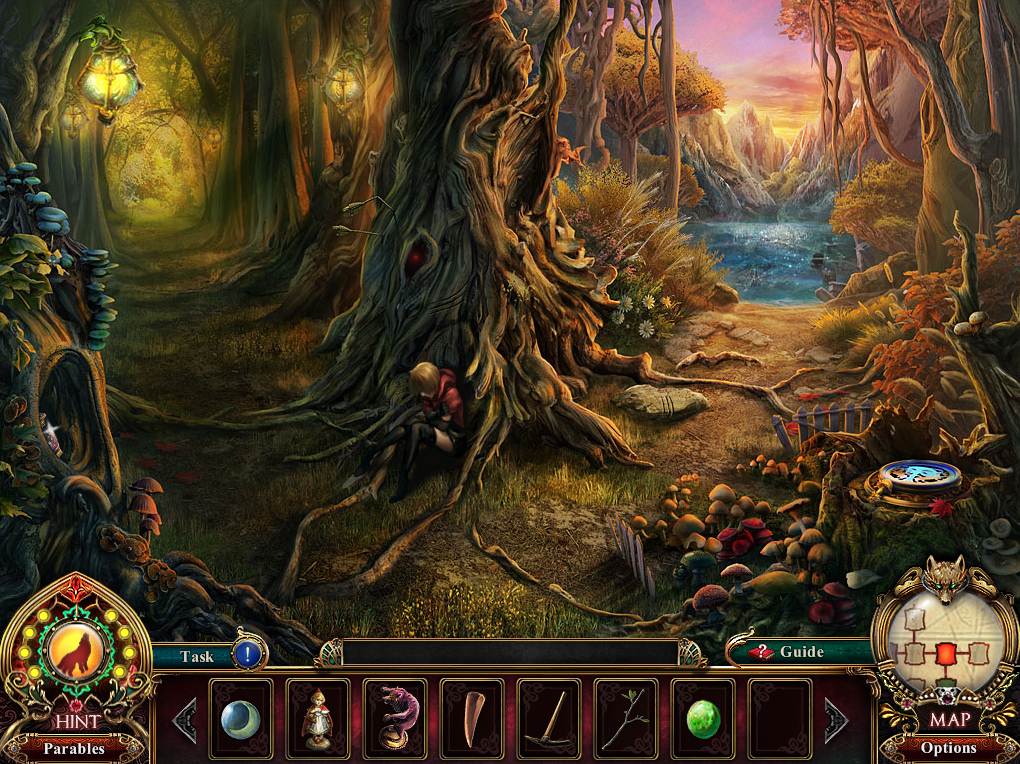 The hidden object games were every bit as lovely as the rest of the game, and even better: there's logic involved. In the hidden object areas, you're collecting the pieces of the item that ends up going in your inventory. So each piece you collect is absolutely necessary for the finished piece. It's a nice touch, and I loved the logic of it all.
The areas themselves were a bit challenging for me, mostly because the objects tended to blend in with the texturing and colors of the scene (but I suppose that's rather the point). Since they were all stunning to look at, though, I found I didn't really mind spending the extra time.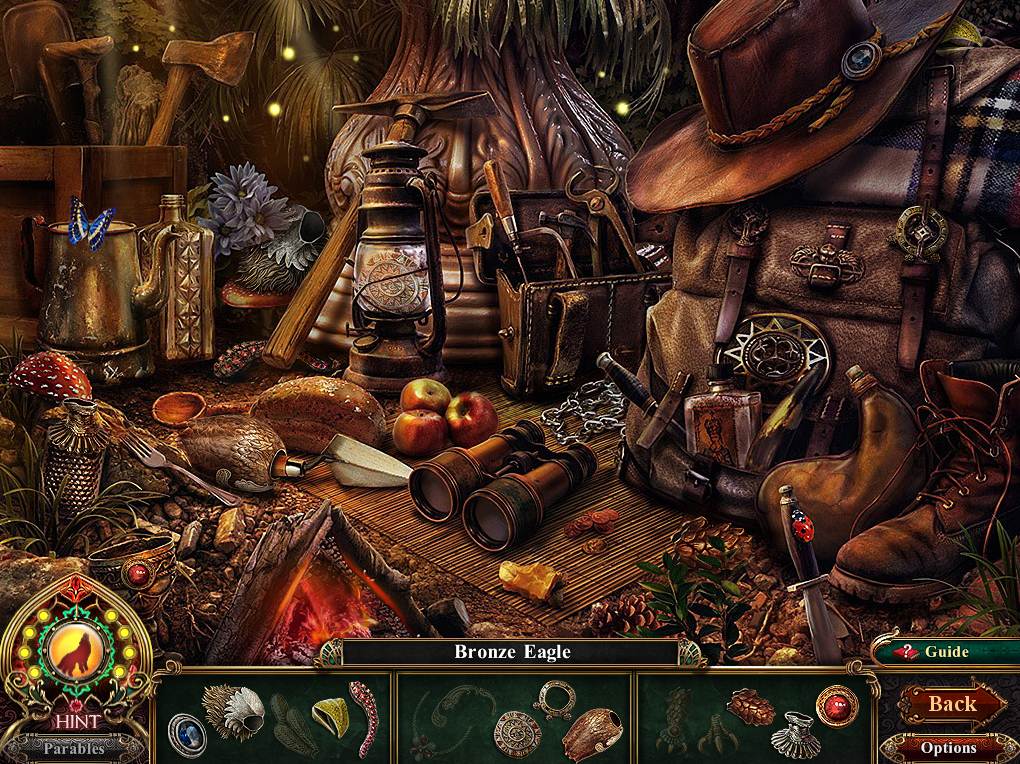 Most of the issues I had with Dark Parables: The Red Riding Hood Sisters I freely admit are solidly connected to my own personal pet peeves. And would I let them stop me from playing? Heck no. This game is interesting, beautiful to look at, and captivating.
Despite its minor flaws, I'm hooked. And since I'm a pretty opinionated person, that should really say something. So take a picky-person's advice and give Dark Parables: The Red Riding Hood Sisters. It's one adventure worth having.